Utilising QR Codes Overview
Scenarios:
You want to setup the QR codes feature on Enrolmy to enable contactless signing in/out

You want to understand how the QR codes feature is secure
This document assumes the following:
You are a proficient Enrolmy user

You understand how Attendance section in Enrolmy Activities works
Setup & Sign In/Out Process
1. See how to Find & Print QR Codes here.
2. See how How Parents Use QR Codes here.
3. See how to Manage Attendance Using QR Codes here.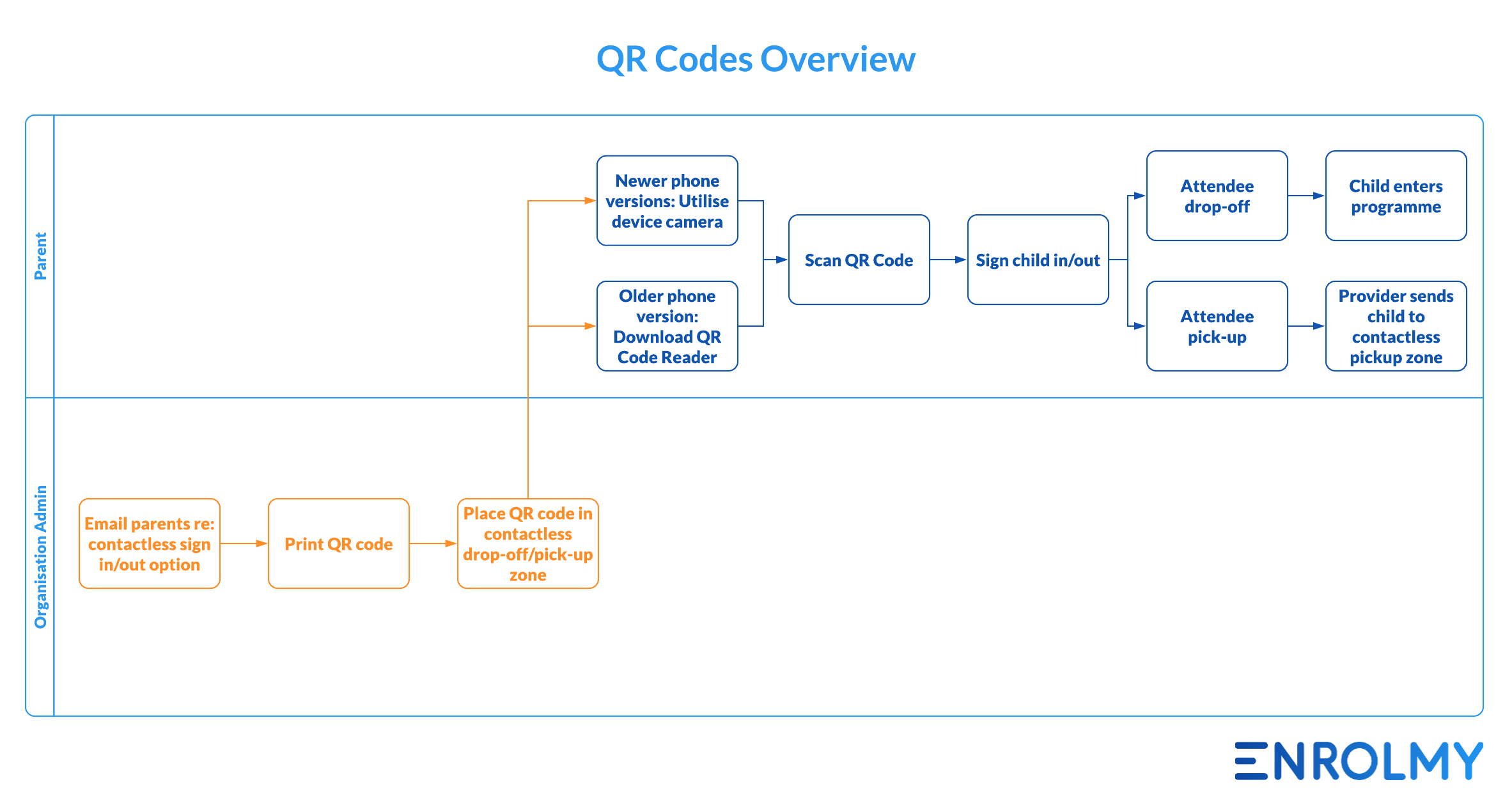 Convenient & Secure Systems
The contactless sign in/out option for parents has been designed to make collecting signatures at drop-off and pick-up times as convenient as possible. The QR code you print and provide for parents may be placed in a public area. Therefore anyone could scan the QR code. Due to the design of the QR code usage being developed for maximum efficiency and convenience for parents, you should know that Enrolmy has placed precautions in place to mitigate security and safety risks;
Only the first name and initial letter of the last name is shown for each attendee (eg John S.)

If there are similar names of attendees in your programme then additional letters are added where necessary so caregivers can identify their attendees.

No other identifying or personal information is shown.

The Sign In / Out page is only accessible from 30 minutes before an activity starts, to 45 minutes after the activity ends. It is impossible to access the Sign In / Out pages outside these times or on days when the activity is not running.

A unique code is used to identify each activity and it is impossible to guess or predict the URL of the sign-in page. This means the page is only accessible via the QR Code.

The browser history is modified so that the user can not access the sign-in page easily at a later time without using the QR Code.

The user is redirected to enrolmy.com after 4 minutes on the page. Therefore it is not possible to keep the page open on their mobile phone for longer than 4 minutes to re-open at a later time.

As an additional precaution, we advise that you remove the QR Code poster outside of sign in and out times.
Great! You now have an overview of using QR codes in Enrolmy!